AO Eyewear General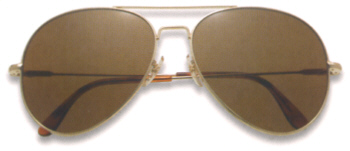 Performance-tested sunglasses with classic aviator styling. The Original Pilot SunglassŪ has been a favorite of US military pilots for more than 40 years.
Engineered to rigid military specifications and issued to millions of US soldiers, sailors, marines and airmen since 1958.
The rugged and sturdy structure and high quality finishing of the steel alloy frame coupled with distortion free, toughened and polished True ColorŪ glass lens have made the AO Flight GearŪ Collection the standard bearer of all fine military sunglasses.
Lens Styles
True Color® Glasses
Cosmetan ®
Color Correct® Polarized
Color Correct® Polycarbonate
High Contrast Amber
Temple Styles
Wire Spatula Temples
Comfort Cable Temples
Starts at $89.95!